DesignFWD_Team
I worked with a strategic design oriented team, the "Design Forward Team". This team identifies and explores possible show case service experiences to inform the HERE strategy and illustrates new opportunity areas for the company.
My Role
As a visual designer I have contributed, through my skills, to the team not only as a UI designer, but also in most phases of the project lifecycle, including user research, concept development, information architecture & UX, prototyping (quickly assembling animations in keynote, after effects or in rapid prototype tools like invision and sketch). I also have prepared visuals assets for the UX Carousel and documentation with well-designed high fidelity application mock-ups.
In this experience period in this team I have collaborated and work closely with different types of designers, developers (especially for the Samsung Gear and Huawei widget) and with the Motion & Prototyping team.
(Due to confidentialy reason I am unable to share Design Information Publicly)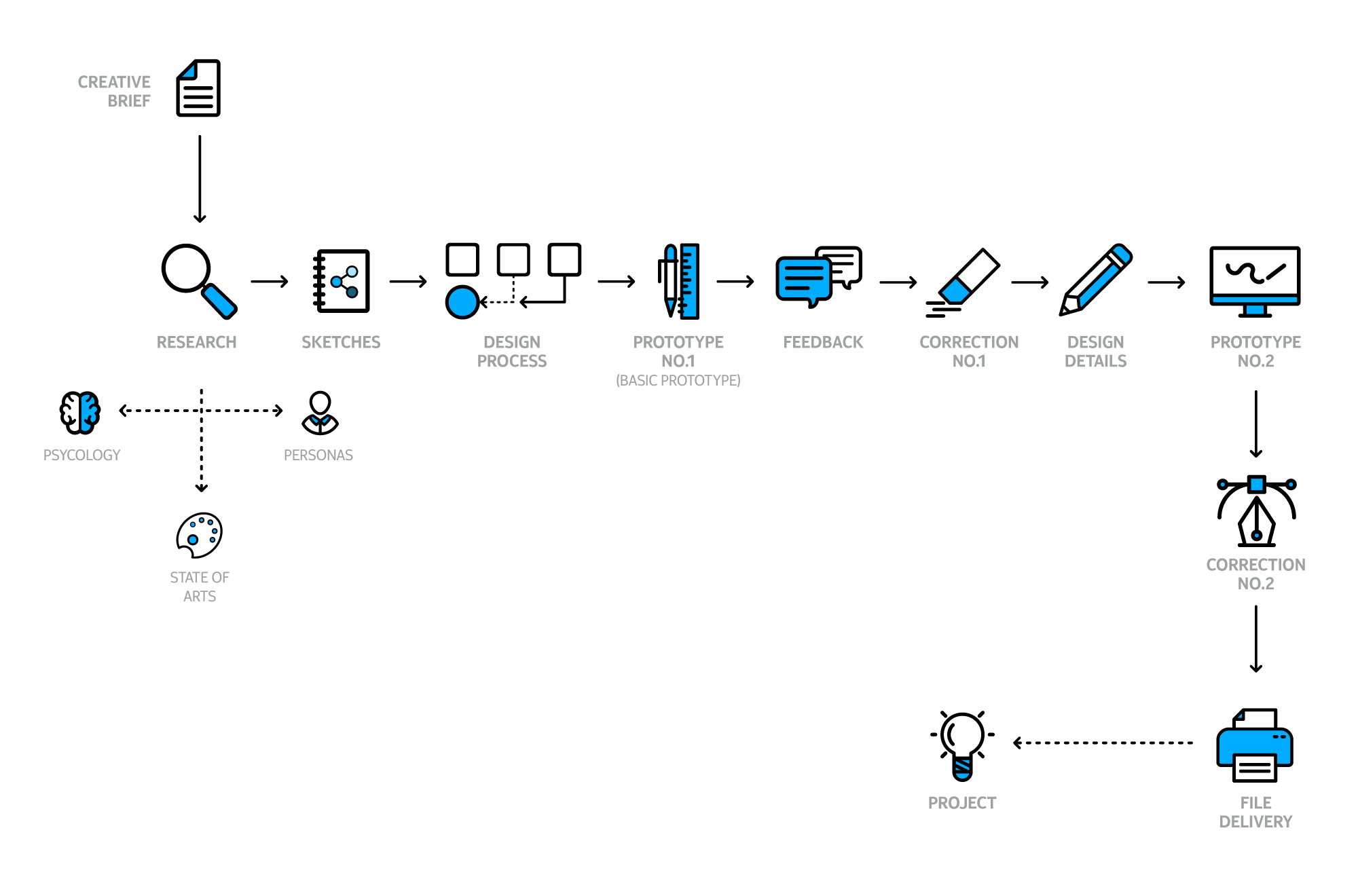 My Process
This diagram explains my usual strategy for developing a project (highly user centric) during this experience in my Team. Although I have applied this strategy to a whole project, I have also used it effetively for a single project aspect, such as UI design. I am equally at home using an in-house or a proprietary strategy.
In my view, starting from research is vital for developing the project. In fact this stage can touch on different areas such as investigating the scenario/context, psychological aspects, understanding the current state of the art, who the competitors are, and defining the current user profile. This research could be more advantageous or could be simply an introduction to starting the design, this changes based on the project.
After that, comes the concept development stage, where the project is in a draft phase. For this stage I prefer to work on paper and develop the project through brainstorming, post-its, and action flow to figure out a first draft of the project (I prefer not to focus on the PC immediately). The next step is to make a very quick and basic prototype/mock-up to understand if the first draft of the project works, especially to ensure user-friendliness. If it is possible, during this phase of the project, I organise a very quick workshop with my colleagues to receive feedback, and to improve user-friendliness.
design details is the phase in which all previous stages are translated into the final design. This part is dedicated more to the design, defining and exploring different kinds of innovative visual solutions and interactions for the UI. To identify the most user-friendly solution, I test different proposals for the UI directly on the required devices. In this way I can see if there are aspects which need to be improved. Here, it is also important for me to receive feedback from the users about the project, and I prepare prototypes created with rapid tools or high fidelity application mock-ups for the users to review.
file delivery is both a preparation phase and also the final stage of the project. It is dedicated to organising all files for delivery and closing the project.